׳Hanoar Hatzioni׳
A Halutz youth movement, affiliated with the General Zionist Union. Founded in 1930, in Poland. This movement established kibbutzim and agricultural communities in Eretz Israel and the Ha'oved Ha'Tzioni movement, which had chapters in Eretz Israel and abroad. In Hungary, this youth movement was quite influential among Jewish youth, as part of the democratic Zionist bloc, and had chapters and training programs in Budapest and other cities. Ha'oved Ha'Tzioni, which had members up to age 40, operated in Hungary even before WWII, but mainly afterward. The movement's leaders in 1944 were Dr. Sigfried Roth, Mordehai Weisz and Dr. Adonyahu Bilitzer.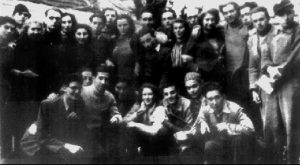 ׳Hatzionim Haclali'im׳
The Clal-Tzioni movement began to form in 1907 and supported the Basel Plan promoted by the Zionist Organization. In 1935 the party held its first congress in Krakow, Poland.
In Hungary, the party was active before, during and after WWII. After the war it bore the name General Democratic Zionists Bloc, and united various organizations, including Hanoar Hatzioni. The party's main activists were Dr. Nagy Laszlo, Bela Schwarz and Dr. Datan Sandor-Alexander, one of the main activists of Zionist underground in Hungary. The party was active in Hungary until 1949.